Thursday, May 8, 2014
http://cctradersclub.com/
by
Kevin Chia Thiam Joo &
Chongzhi
=====================================================================
=====================================================================
https://www.facebook.com/CCTraders
Posted by

Ninja
at 4:32 PM
2 comments:

Sunday, May 4, 2014
http://investinglab.com/lp/webinar-registration-page-video-2/
This is one of the most widely used #1 trading strategy that you need to know during uncertain market conditions 'U-Turn' strategy" by Jason Fielder InvestingLab.com
=====================================================================
=====================================================================
Posted by

Ninja
at 9:09 AM
3 comments:

Thursday, May 1, 2014
http://simpletradingplans.com/
by Norman Hallett
=====================================================================
=====================================================================
Trading Emini S&P, commodities and selected stocks
Keep trading plan simple with just one or two CORE parameters (indicators, factors etc) to meet before entering the high probability trades then spend more time to reducing risk. Have a few simple rule based steps to exit with an emphsis on taking profit along the way. Be disciplined trader.
Three simple trading plans that fit individual market phase:
1. Big Move Potential (establish trend)
2. Continuation Plan (ride the trend)
3. The Extremes Plan (Oversold and Overbought)
7-minute mental training (manageing your emotions) to focus and ready to run the trading plan before start trading the market
Taking journal before and after trading plan
Cost - US 497.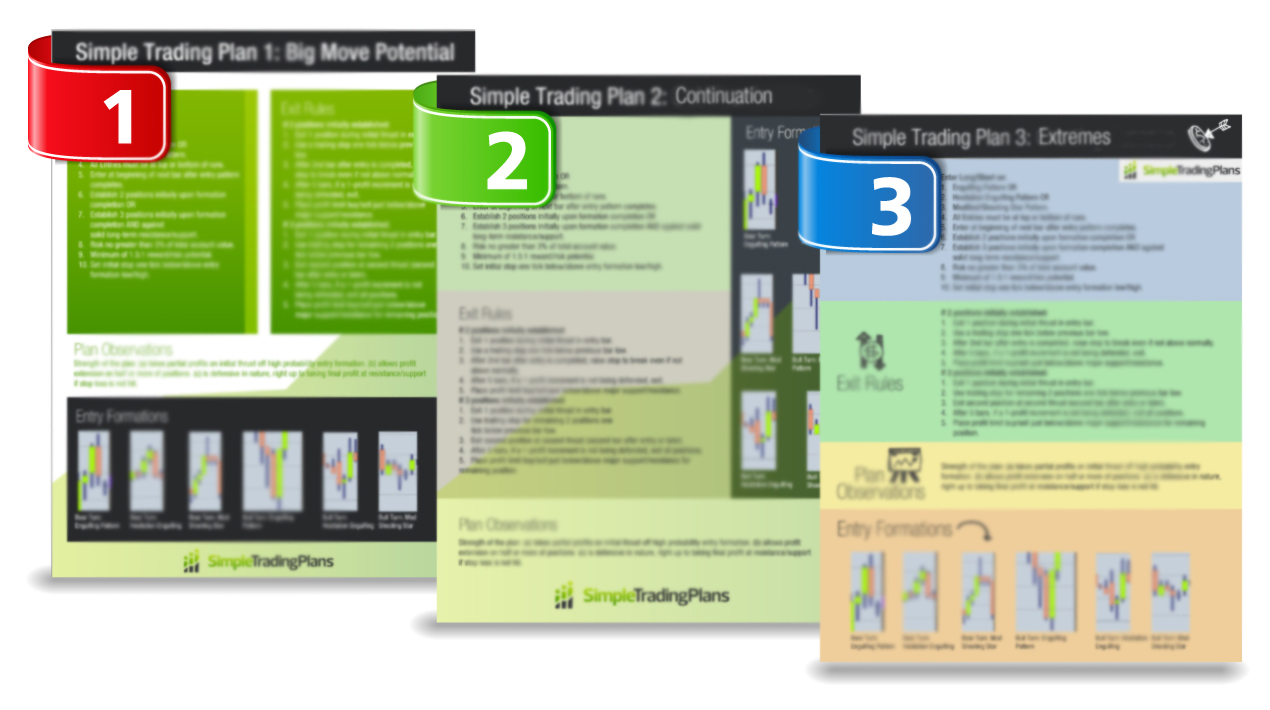 Here's What You Get...

Simple Trading Plan 1: Big Move Potential, value $297

This Simple Trading Plan, just like the other 2, will fit on one sheet of paper and you'll get all the entry, exit and money management rules.

Simple Trading Plan 2: The Continuation Plan, value $297

Taking advantage of an established trend is a big step in keeping you out of harms way and making money as a result.

Simple Trading Plan 3: The Extremes Plan, value $297

Markets get overbought and oversold all the time. This plan helps put that extra 'fluff' in your pocket.

LIVE Trading Demonstrations of All 3 Simple Trading Plans (2 weeks of 3 hour sessions/day), value $297

You'll see multiple examples of all 3 Simple Trading Plans from entry to exit and all the risk-management moves in between. You can ask your questions and get your answers as the trade is developing.

RAW RECORDINGS of All the LIVE Trading Demonstration Videos to View on Your Own Time, value $297

Being there live is just an option. You'll have the complete raw recordings.

HIGHLIGHT VIDEOS Derived from the Raw Recordings, value $297

Some of us would rather get to the entries, exits and risk management adjustments, one on top of the other, instead of experiencing the "wait time" between actions. That's what these highlight videos are. All the trading plan moves in a concentrated form.
Bonuses

Bonus One: Day-in-the-life Subconscious Trainings Before Each Trading Session, value $97

Watch me take my subconscious training before I start each training session. You can even join me and take the session with me if you'd like!

Bonus Two: Real Life Journaling. Once Before the Trading Day Begins and Again After the Trading Day is Over, value $297

I'm going to do my journaling like I always do only this time, you'll be watching over my shoulder seeing exactly what I'm writing! You'll see me getting honest with my feelings the way YOU should be doing.

Bonus Three: One Year Access to All Materials and Recordings. I'll Just Throw That in Because I Want You to Have It!

Plan materials and recordings…raw recording, highlight recordings…everything. That's enough time for you to get everything down pat 5 times over! I didn't want time to be a factor, so 90 days… even 6 months...was not enough.
Total value: $2,176

The Simple Trading Plans program kicks-off

May 6th

, and you will have access to the Simple Trading Plans membership site right away.
If you're ready to move NOW, and commit to making your trading life more simple and more effective and you're ready to take action, all I'm asking you to invest is $497.
That's more than 77% off the value of this essential training.

Posted by

Ninja
at 7:25 PM
6 comments:

http://www.zenfxtrader.com/
ZenFXTrader Seminar
'How To Really Make Money in FX'
at Kembangan Plaza #B1-08 on 1May2014 2.30pm - 5pm Mobile: 93957422
=====================================================================
=====================================================================
Zen FX Trading Method:
- Low Risks, High Probability Trading
- Applies principles of classical technical analysis price action crowd behaviour
- Taking into account of event risk
- Live test forward result on real time live data, no back test data.
The ZenFX Trading Course
Part I
Explanation of Stocks, Futures, Commodities and Forex
All about brokers, software, charting packages, trading platforms
Introduction to charting
Trading approaches: Fundamental Analysis, Technical Analysis
Classical Technical Analysis. Patterns, indicators, etc.
Market Psychology – why prices move
Price Action – Reading the Market
The Importance of Time-frames
Part II: The ZenFX Low-Risk High-Probability Strategy
Short-term intra-day strategy
Medium-term swing trade strategy
Part III: Money-management and Individual Psychology
Understanding Risk and Probability
Effective money management – the key to survival
Disciplined Trading – the key to consistent profits
Trade planning, setting goals, tips for time management
Compounding: grow your wealth, steadily
Duration: 2 days x 6 hours each day (total 12 hours)
Review Session – Live trading: An evening session few days after the course on a Tuesday/Thursday evening where we will guide you in live trading, putting the lessons into practice.
Follow-up Support: When you start live trading after the course we are available for consultation and help at all times via email, twitter, blog and phone.
Next ZenFX Trading Foundation Course:
Singapore
Saturday 3 + Sunday 4 May
OR
Saturday 10 + Sunday 11 May
(will be confirmed later subject to venue availability)

ZenFX Masterclass
From time to time ZenFXtrader will hold Masterclasses for for those who have some trading experience already and need to understand the market in greater depth.
These advanced topics will be conducted by experienced ex-bank / fund traders and will provide a rich insight into how the big boys look at the market, what drives their trades and the tell-tale footprints they leave on the charts.Why does my stop always get hit?
Why does my stop always get hit?
How to trade big news events
Options, Barriers and their effect on price action
How to read the footprints of the big banks / hedge funds
Profiting from market seasonality
Posted by

Ninja
at 3:27 AM
7 comments: